The first Cross Car medals of the FIA Motorsport Games were dished out, with Team France sharing the spoils with Team Netherlands after a pair of intense Finals for Junior and Senior competitors.
In the Senior discipline, Team France were on fine form throughout the action of Saturday thanks to the in-form David Meat, who won his Semi-Final by a gaping cushion of almost 15 seconds - joined on the front row for the Final by Team Spain's Ivan Pina-Chinchilla who took advantage of a poor start by the rapid Team Sweden car of Patrick Halberg who dropped spots on the opening lap of the second contest.
Team Latvia and World Rallycross racer Reinis Nitiss would not join the Final due to mechanical misfortunes, while Czech Repulic's Adam Kotaska spun out of contention.
From the front of the field, France again were the ones to beat, and Meat would bring it home for the nation's second gold medal of the event after pipping Team Spain's Pina-Chinchilla, who had to recover from a slower start to overtake Sweden's Halberg for the silver medal. Team Italy missed out narrowly in fourth with Simone Firenze, Team Netherlands in fifth with their Senior driver Jari van Hoof.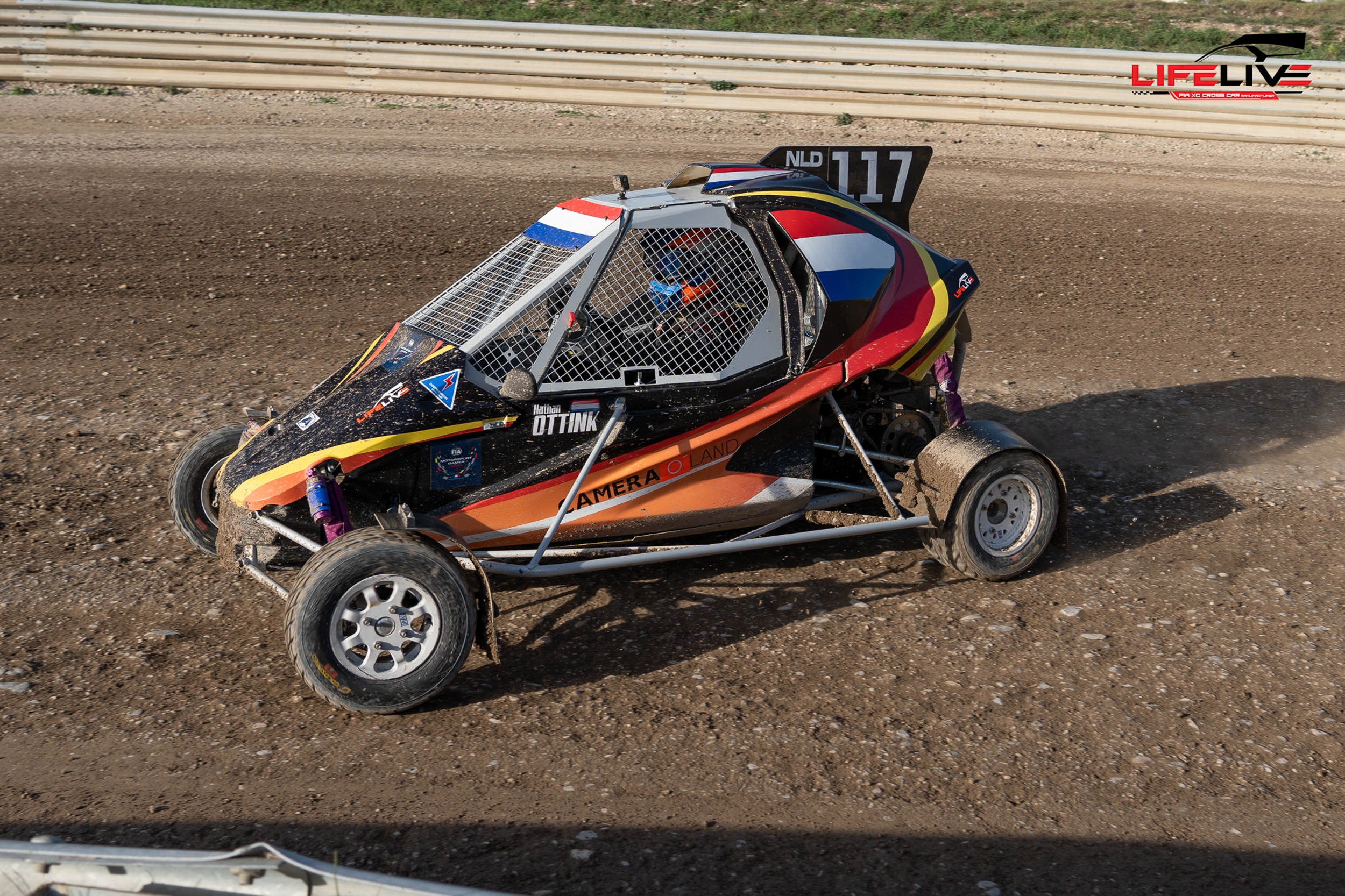 Racing identical Life Live-Yamaha buggies for the inaugural event, Junior drivers took to the bespoke offroad circuit in France to compete in a pair of Semi-Finals to see who would make it into the all-important Final race.
The initial Junior Semi-Final started with drama as one of the favourite nations for success, Team France, suffered heartbreak when Etan Pepujol - second fastest earlier in the day - lost control at turn one late in the contest and put himself out of contention as the nation hunted for a double gold medal.
Inheriting the advantage would be Team Netherlands as Nathan Ottink charged into the lead, one which he would not surrender to beat Team Sweden by 1.5s despite pressure from Alexander Gustafsson throughout. Spain (Diego Martinez Gonzalez) and the flying Team UK car of Corey Padgett made up the top four, the latter rising through the field.
The second Semi-Final would be all about Team Belgium as Romuald Demelenne took victory by 2.2s to move onto the front row for the Final, but a slow start for him dropped the Belgians to third place in the main race to give the early advantage to the car of Team Netherlands.
Ottink fended off the chasing pack over the seven-lap dash, securing the nation's first gold medal of the 2022 FIA Motorsport Games with a winning margain of just 1.5s over Sweden who grabbed the silver, with bronze heading the way of the recovering Team Belgium.