The grid for the FIA Motorsport Games continues to take shape as entrants from across the globe announce their on-track representatives for the 1-3 November event in Rome. A further six GT Cup squads have now finalised their plans, bringing the total number of confirmed line-ups to 11. The latest additions join the crews already set by Belarus, Hong Kong, Russia, Spain and the USA.


Team Turkey will field Salih Yoluç and Ayhancan Güven, an established duo who last year won the FIA GT Nations Cup in Bahrain. With this event having provided the inspiration for the FIA Motorsport Games, the Turkish duo will be among the favourites to triumph in the GT Cup category.
While the drivers remain unchanged from last year they will be supported by a fresh behind-the-scenes operation as Team Turkey puts its faith in the new Aston Martin Vantage AMR GT3. Carrying #1 to mark the FIA GT Nations Cup success, the car will be prepared by the successful British outfit TF Sport.
This will ensure that Yoluç remains with the same team with which he has contested this year's Blancpain GT Series Endurance Cup. The Turkish ace has enjoyed a successful spell since his FIA GT Nations Cup win, including a dominant class victory at the Total 24 Hours of Spa. Güven has also flourished since securing his maiden international title, stepping up to the Porsche Supercup and triumphing in front of a packed British Grand Prix crowd at Silverstone.
Team France was another leading contender at last year's FIA GT Nations Cup, which saw Jean-Luc Beaubelique and Jim Pla pilot a Mercedes-AMG GT3 prepared by the accomplished AKKA ASP squad. This same line-up will tackle the GT Cup category in Rome, ensuring complete continuity for the French effort.
Beaubelique and Pla are a well-established pairing, having finished as runners-up in last season's Championnat de France FFSA GT/GT4 France standings before graduating to the Blancpain GT Series with AKKA ASP in 2019. They achieved major success in June, joining with Mauro Ricci to take Pro-Am class victory on home turf at the Circuit Paul Ricard 1000kms.
Individually, Beaubelique is among the most experienced gentlemen drivers in European motor racing with multiple Blancpain GT Series class victories to his name. His 26-year-old teammate Pla continues to build a strong reputation in the sport and has shown an impressive turn of speed during his maiden Blancpain GT Series campaign.
Team Denmark will compete in five of the six categories that make up the FIA Motorsport Games. Drivers have been confirmed for each programme, with the nation's GT Cup hopes set to be carried by Jens Reno Moller and Christina Nielsen. They will drive a Honda NSX GT3 Evo run by brand specialist JAS Motorsport.
Bronze-graded Moller ranks among Europe's leading amateur racers, with experience at the Le Mans 24 Hours and in a variety of GT and touring car series. The Dane is on the verge of capturing this season's Blancpain GT Sports Club title, a feat he will hope to achieve at this weekend's season finale (28/29 September).
His teammate Nielsen, meanwhile, is an accomplished GT driver across a range of international series. Her biggest successes have come on the American continent, where she has captured a brace of IMSA SportsCar titles in the highly competitive GTD category. This season she has been among the busiest drivers in the sport, criss-crossing the globe to compete in IMSA, Blancpain GT World Challenge Asia and the Intercontinental GT Challenge.
Team Japan will field a fresh line-up in the GT Cup as Hiroshi Hamaguchi and Ukyo Sasahara join forces aboard a Lamborghini Huracan GT3 run by FFF Racing. The effort will reunite Hamaguchi with the squad with which he has enjoyed considerable success in Asia and Europe, while Sasahara will make his competitive debut at the wheel of Lamborghini machinery.
Though untested as a duo, this line-up has clear potential to show well in the GT Cup. Hamaguchi is an internationally accomplished bronze-graded driver with a number of titles to his name. Having won the Blancpain GT Series Asia Pro-Am championship in 2018, he switched to Blancpain GT World Challenge Europe this term and secured another class crown.
23-year-old Sasahara has a wealth of experience in single-seater competitions. The youngster was a race-winner in the ultra-competitive Formula Renault Eurocup and is on course to capture this year's F3 Asian Championship title, winning eight of the 12 races staged thus far. He has recently added GT racing to his skillset, competing with success in Porsche Carrera Cup Japan.
Team Thailand has revealed that its line-up will be led by the driver pairing of Vutthikorn Inthraphuvasak and Kantadhee Kusiri. The Thai duo will drive a Porsche 911 GT3-R prepared by Italian squad Dinamic Motorsport, which brings considerable race-winning pedigree with the Stuttgart marque's machinery.
Inthraphuvasak has spent the 2019 season competing in Blancpain GT World Challenge Asia. His prior experience includes title success in Super Car Thailand, as well as spells in Porsche Carrera Cup Asia and a variety of GT series across the continent. Kusiri has winning pedigree in a range of continental championships, including title success in the TCR Asia Series. He has also competed internationally, racing both single-seaters and touring cars across the world. This term has seen the 26-year-old step up to the ultra-competitive Porsche Supercup, where he competes against Team Turkey' Ayhancan Güven.
Finally, the Italian flag will be flown by Gianluca Roda and son Giorgio, who will have the honour of representing the host nation at the Rome event. The line-up could hardly be more Italian, as Gianluca and Giorgio will drive a Ferrari run by the nation's foremost GT squad AF Corse and decked out in the national colours.
As for their experience, both know their way around GT equipment. Gianluca competed extensively in touring cars during the nineties before switching to GT racing in the 2000s. He became a fixture of the International GT Open grid and was part of the squad that won the very first Blancpain Endurance Series race at Monza in 2011, triumphing aboard a Porsche 997 GT3-R. Since then he has been a regular in the FIA World Endurance Championship and made frequent starts at the Le Mans 24 Hours.

Several National Sporting Authorities are in the process of finalising their FIA Motorsport Games entries, therefore further announcements, both in the GT Cup as well as in the other five categories, are expected in the days to come.

Hosted by Rome and with the nearby Vallelunga Circuit staging the on-track action, the FIA Motorsport Games is a new multi-disciplinary contest that features six categories: GT Cup, Touring Car Cup, Formula 4 Cup, Drifting Cup, Karting Slalom Cup and Digital Cup.
Competitors from across the globe will chase a spot on the podium, with gold, silver and bronze medals awarded to the top-three finishers in each event. These results will produce an overall medal table, with the top National Sporting Authority (ASN) awarded the inaugural FIA Motorsport Games trophy during the closing ceremony in Rome.
___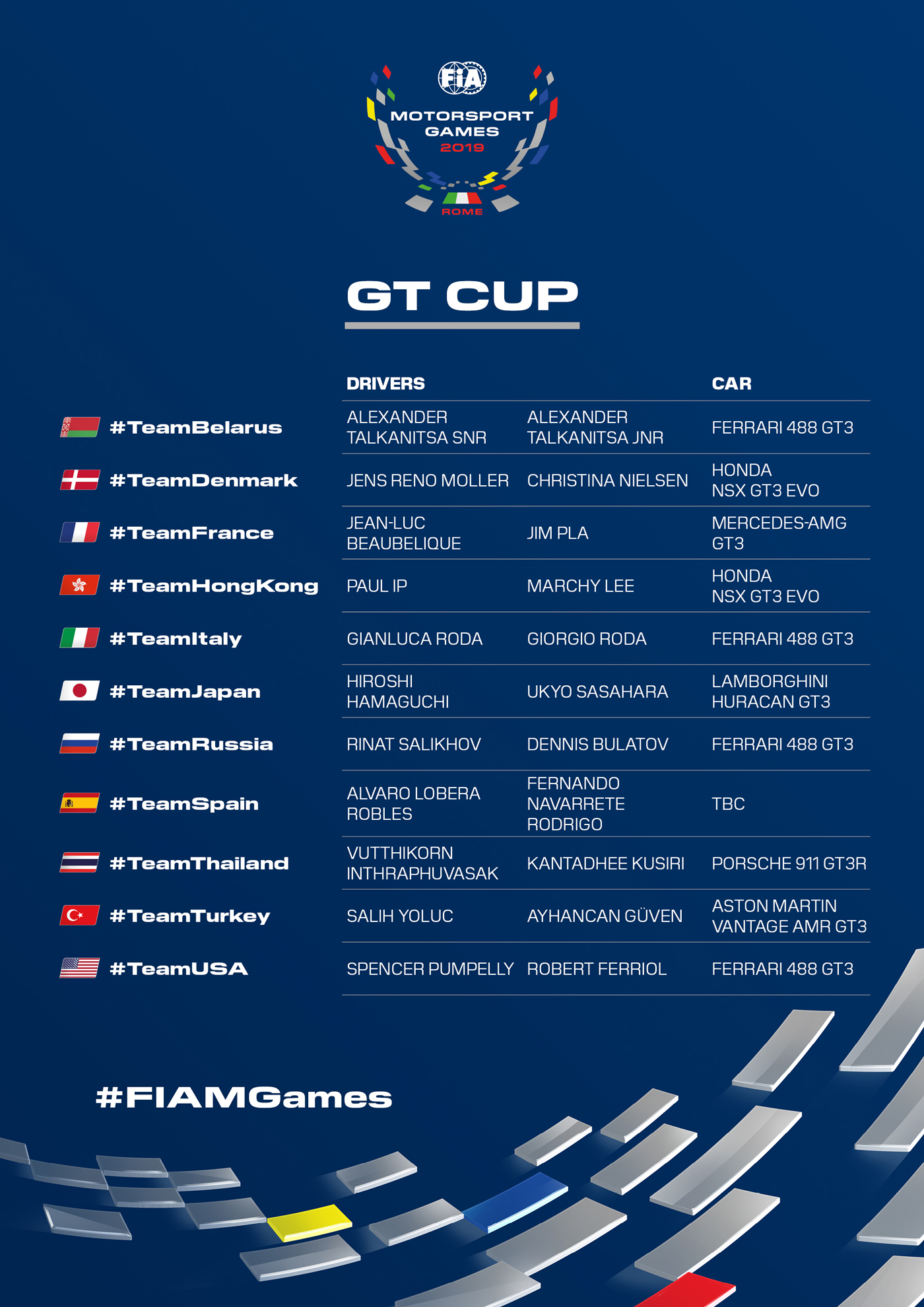 ___