Team Peru won an historic first FIA Motorsport Games gold medal in a thrilling Karting Sprint Junior Final at Circuit Paul Ricard this afternoon, after initial winners Team France were handed a post-race penalty.
Team Belgium then came out on top of a dramatic medal race for the Senior competition, where only half the field managed to finish following multiple opening-lap incidents.
Karting Sprint Junior
Andreas Cardenas's Karting Sprint Junior gold medal victory is an historic one on several levels. Not only is the young Peruvian star the first driver to be awarded an FIA Motorsport Games Karting Sprint Junior gold medal, his victory also heralds a remarkable result on the nation's event debut.
Considered a strong medal contender after scoring sixth, second and fifth place finishes in the three Qualifying Heats, Cardenas made a strong start from third on the grid to tail pole sitter and leader, Team Brazil's Gabriel Koenigkan.
Despite briefly conceding a place to France's Jules Caranta as the top five runners raced bumper to bumper, Cardenas recovered the position to finish second at the flag.
Although Team France crossed the line first, a five-second post race penalty for Caranta dropped him down the order, elevating Team Peru to gold status.Third at the line from fifth on the grid, Team Estonia's Mark Dubnitski also lost his bronze medal due to an incorrectly installed Front Fiaring which also carried a five-second post-race penalty.
Consequently, Team Brazil's Gabriel Koenigkan - who had led the first half of the 26-lap race but got shuffled back to fifth amongst the fiercely competitive field - was promoted from fourth to the silver medal-winning position. A fantastic result that was achieved with FIA Drivers' Commission President and former Brazilian F1 driver Felipe Massa watching on.
Inheriting the bronze was Team Denmark's Mikkel Gaarde Pedersen, who came through to medal-winning glory from eighth on the grid. Heartbreak for Team France resulted in fourth overall, with Team Slovenia (Aleksandar Bogunović) fifth and Belgium's Thibaut Ramaekers completing the top six.
Karting Sprint Senior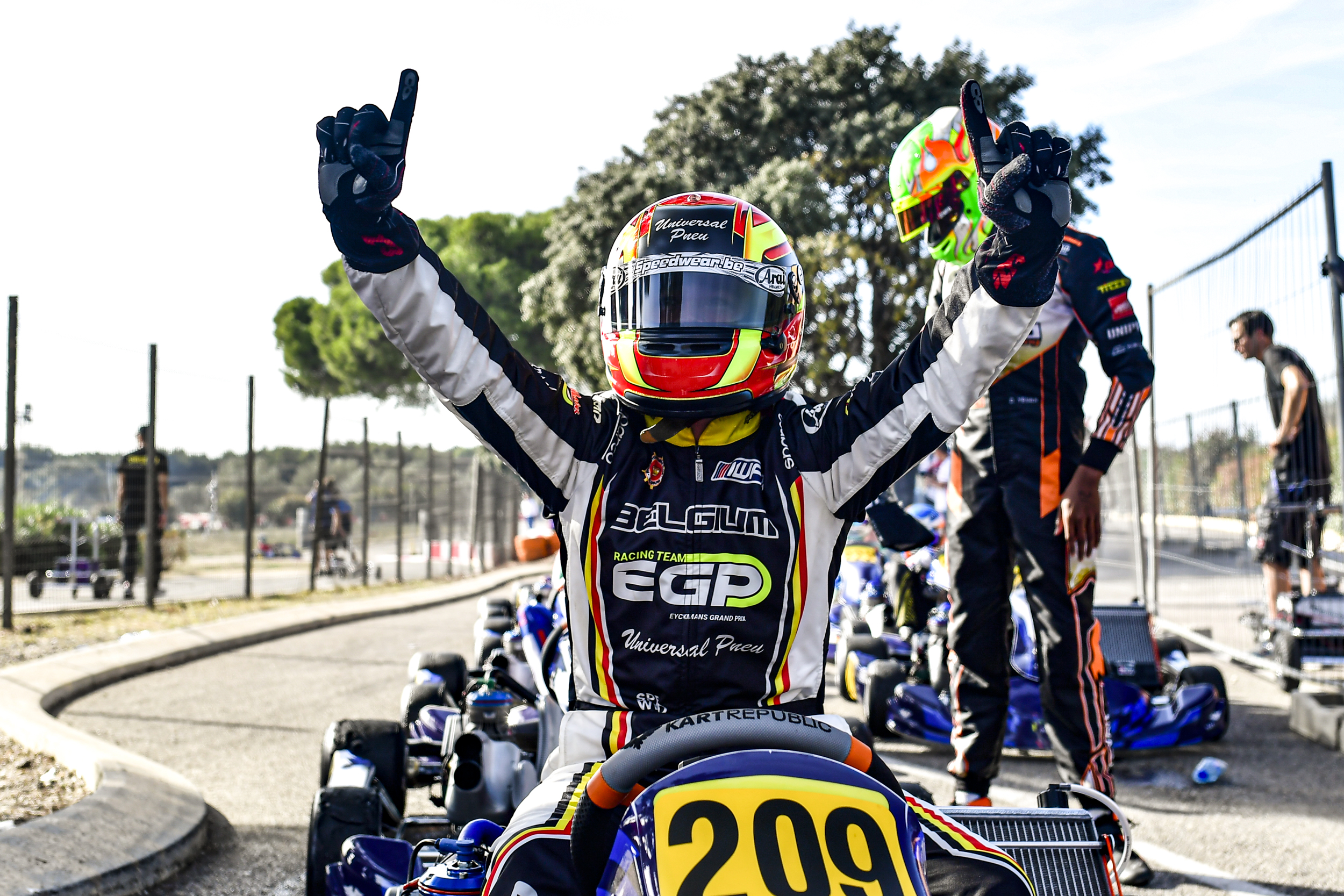 The Senior competition proved even more dramatic with multiple opening lap incidents immediately knocking 11 nations out of the running. Two corners later, Team Sweden and Team Spain knocked each other out of medal contention, resulting in a full course yellow.
Poleman, Belgium's Elie Goldstein got clean away at the restart, whilst Israel's Ariel Elkin demoted Sri Lanka's Yevan David to third. That sparked a brilliant battle between the two nations as they traded places for the remainder of the 32-lap race.
As second and third continued to squabble, Goldstein continued his textbook performance
to canter to the chequered flag unchallenged and claim Team Belgium's first ever Karting gold medal - also following in his grandfather's wheel tracks to claim an FIA title.
David eventually made a move stick for second and the silver medal, with Elkin taking a well deserved bronze - both earning their respective nations of Team Sri Lanka and Team Israel their first ever medals of the Games.
Team Germany and Maxmillian Schleimer led the pursuing pack to finish fourth ahead of an impressive performance from Team Hong Kong China's Yu KaPo and Lithuania's Adrijus Rimkevčius.
Carmen Kraav put in a stellar performance to climb the field to finish seventh on her FIA Motorsport Games debut for Team Estonia. Indonesia's Kaenan Reza Sini was the last kart home in 15th place, with half the field failing to finish.