Team Italy have been crowned winners of the 2022 FIA Motorsport Games during this evening's closing ceremony at Circuit Paul Ricard thanks to a total of three gold medals in Rally4, Historic Rally and KCMG Formula 4.
This equalled host nation Team France's haul of golds, while Mirko Bortolotti added a silver in the concluding GT Sprint race to tip the table in Italy's favour. Belgium finished third with two golds, one silver and two bronze, placing them ahead of Germany and the Netherlands, who tied for fourth.
In addition to being confirmed as overall winner, Team Italy also scooped the AllStar Trophy for achieving the best medal score across the event's 10 senior disciplines. The NewStar Trophy went to Team Germany for scoring the best results in Karting Endurance, Karting Sprint Junior, Karting Slalom, Auto Slalom, Cross Car Junior and Fanatec Esports. There were also regional trophies awarded to South Africa (Africa), Australia (Asia), Peru (Americas), Italy (Europe) and Kuwait (MENA).
A successful second edition of the multidisciplinary event brought 42,000 spectators to Circuit Paul Ricard across four packed days of action. They witnessed a diverse line-up that ranged from high-powered GT cars and spectacular drift machinery to the technical challenge of slalom, while off-road events ran in the surrounding region. A full round-up of Sunday's medal winners follows.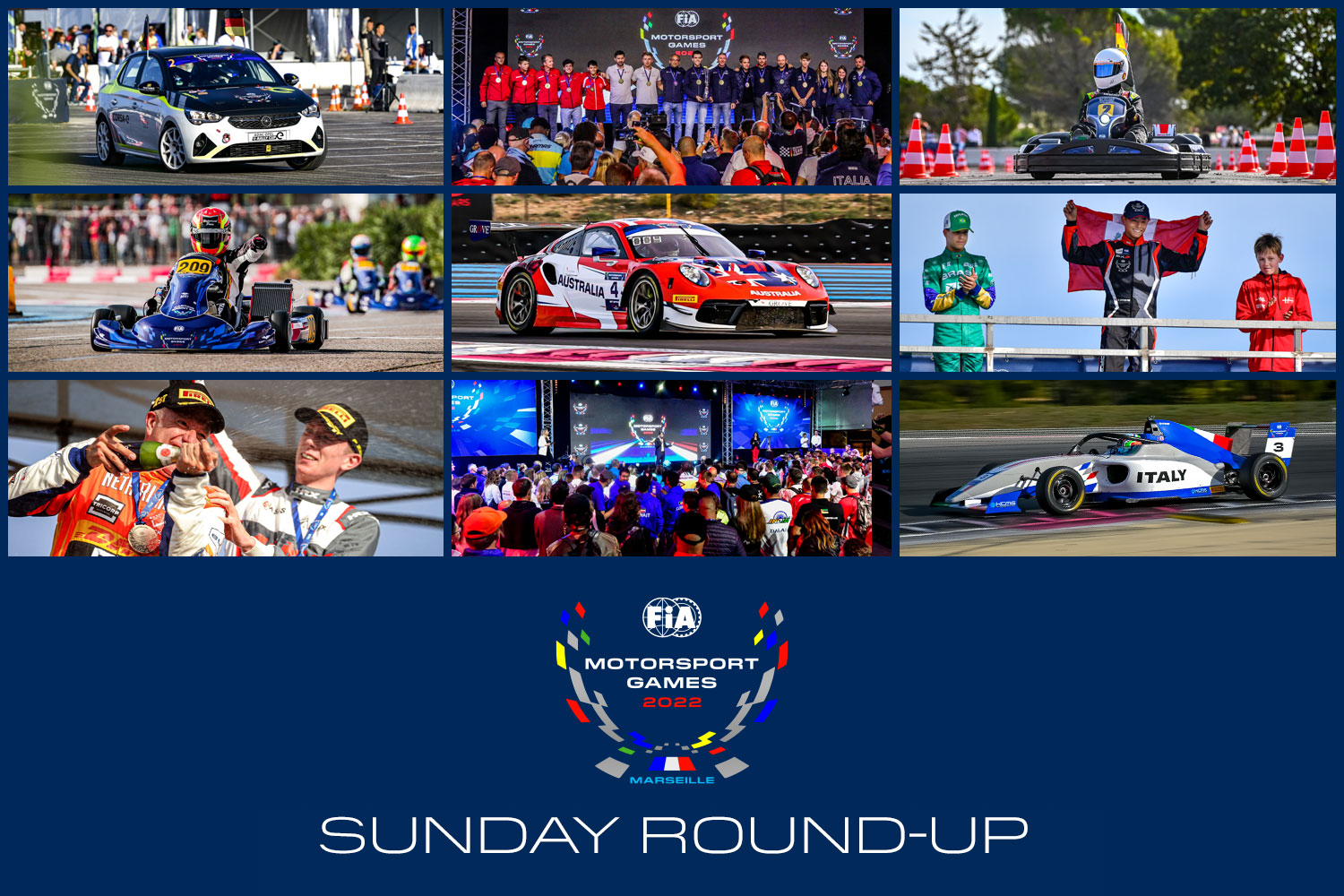 Auto Slalom
Team Germany stamped their authority on Auto Slalom by beating Slovakia and Georgia to the gold medal.
Driving the electric Opel Corsa e-Rally, German duo Marcel Hellberg and Claire Schonborn flew through the last 16 and then disposed of Team Czech Republic in the quarter-finals and Team Georgia in the semi-finals, taking on Team Slovakia for the gold.
Slovakia got the better of Team Croatia in their own semi-final after beating Team Israel, but it was a much tougher contest as Michaela Dorcik, sharing with David Nemcek, helped her nation into the final by 2.4s with a mighty run when it mattered.
In the final, Schonborn's decisive opening run gave Germany the advantage, swiftly backed up by Hellberg as the pair claimed a dominant gold medal by 13.7s. Slovakia took silver, while bronze went to Georgia after penalties cost Croatia in their play-off.
GT Sprint
Team Australia secured the final gold medal of the 2022 FIA Motorsport Games by winning Sunday afternoon's GT Sprint race, while a runner-up finish for Team Italy was enough to ensure that they ended the event's second edition on top of the medal table.
Lining up in second spot, Matt Campbell got a lightning launch in his Porsche, while the pole-sitting Team Belgium Audi was swallowed by the pack. Within a few laps the Team Italy Lamborghini of Mirko Bortolotti was second followed by the recovering Belgian car driven by Dries Vanthoor. By this point, however, Campbell had pulled five seconds clear of the pack.
Bortolotti chipped away at the deficit and ultimately got within two seconds of Campbell, but he could not prevent the Aussie from bagging the final gold of the 2022 event. Silver for Team Italy was enough to break a tie with France at the top of the medal table, while Vanthoor took bronze for Team Belgium. Team Brazil's Bruno Baptista won the award for the best silver-graded driver, finishing sixth at the chequered flag.
KCMG Formula 4
Team Italy's Andrea Kimi Antonelli's dominant gold medal-winning performance in KCMG Formula 4 final has again marked him as a star of the future. The 16-year-old's victory adds an FIA Motorsport Games gold medal to his 2022 list of achievements which also includes championship wins in the Italian and German Formula 4 championships.
Team Italy remains undefeated in FIA Motorsport Games KCMG Formula 4 gold medal races, the win today backing up Andrea Rosso's victory in 2019. Antonelli not only takes home a gold medal but has an extra 10,000 euro for his 2023 race budget thanks to Formula 4 chassis manufacturer KCMG.
The Italian led home Team Portugal's Manuel Espirito Santo in the silver medal-winning second place, with Team Spain's Bruno Del Pino Ventos taking third and bronze.
Karting Slalom
Team Germany won gold in Karting Slalom thanks to a superb display from its crew of Annika Spielberger and Sebastian Romberg. They beat a determined Hungary in the quarter-finals before easily dispatching Estonia in the semis to reach the gold medal match-up. Belgium, meanwhile, beat the Netherlands and then Poland to secure their place alongside Germany in the decider.
Before that the Poles went up against the Estonians to dispute the bronze medal. Though Estonia's Jurgen Laansoo was fastest of all, a more consistent performance from the duo of Karol Krol and Emilia Rotko earned Poland its second bronze medal of the 2022 FIA Motorsport Games.
This just left the final, where Romberg was quickest of all for Team Germany with a total time of 1m21.324s. Dario Pemov was second for Belgium on raw pace, but he incurred three penalties for hitting cones. With Spielberger as consistent as ever, Germany's victory was relatively comfortable as they secured the gold by a margin of 16.7s.
Karting Sprint Junior & Senior
Team Peru earned an historic first FIA Motorsport Games medal on their event debut, with young karter Andreas Cardenas claiming the inaugural gold medal for Karting Sprint Junior. Team Belgium also earned a place in the history books in the new Senior category, during two dramatic finals at the Circuit Paul Ricard kart track.
Considered a strong medal contender after scoring sixth, second and fifth place finishes in the three Qualifying Heats, Cardenas made a strong start from third on the grid to tail pole sitter and leader, Team Brazil's Gabriel Koenigkan. Despite briefly conceding France's Jules Caranta, Cardenas recovered the position to finish second at the flag.
Although Team France crossed the line first and Team Estonia third, five-second post race penalties dropped both down the order. Consequently, Team Brazil's Gabriel Koenigkan - who had led the first half of the 26-lap race but got shuffled back to fifth - was promoted to the silver medal-winning position. Inheriting the bronze was Team Denmark's Mikkel Gaarde Pedersen, who came through to medal-winning glory from eighth on the grid.
Team Belgium's Elie Goldstein followed in his grandfather's wheel tracks in earning an FIA title after a faultless pole-to-flag victory in the Senior competition. With 13 nations, including medal contenders Sweden and Spain, knocked out of contention on the opening lap, Yevan David and Ariel Elkin delivered a superb battle for second - David eventually seizing the silver medal, with Elkin taking a well deserved bronze - both earning their respective nations of Team Sri Lanka and Team Israel their first ever medals of the Games.
Touring Cars
Team Netherlands celebrated gold in Touring Cars thanks to the experienced Tom Coronel, who fended off Team Spain's Isidro Callejas Gomez (Cupra) and the Team Ireland Honda Civic of Jack Young in a dramatic main race.
Coronel took advantage of fellow Audi driver Gilles Magnus retiring from the lead on lap two, after the Team Belgium driver had won the morning's qualification race in style. Young was penalised five seconds for a clash with Team France at the Mistral chicane, dropping to bronze after finishing second on the road.
In closing, SRO Motorsports Group and the FIA would like to thank all the 72 competing nations and everyone involved with the event for making the 2022 FIA Motorsport Games such a success.